High-Rail Service
Using High-Rail trucks, we can steam frozen culverts and remove a variety of debris from locations not commonly accessible by regular flusher trucks.
1. Prevent Rail Damage:
Frozen culverts can cause damage to railroad tracks and infrastructure due to the expansion of ice, leading to derailments and safety hazards. High rail service can prevent this by thawing culverts and maintaining safe rail conditions.
2. Ensures Year-Round Operation:
By steam thawing frozen culverts, high rail service helps ensure year-round rail operation, preventing disruptions due to winter weather conditions.
3. Mitigates Flooding Risk:
Proper culvert maintenance through debris removal prevents water accumulation, reducing the risk of flooding and washouts, which can damage tracks and disrupt rail service.
4. Enhanced Safety:
Debris removal from tracks and right-of-way areas improves safety by reducing the risk of derailments and obstructions that could endanger train operators and passengers.
5. Efficiency and Cost Savings:
High rail service provides an efficient and cost-effective way to address infrastructure issues. It minimizes downtime and costly repairs associated with rail-related incidents and track damage.
6. Prevent or Rectify Interruptions to Vital Area Drainage:
We prioritize uninterrupted area drainage, particularly in vital regions. Our High-Rail solutions prevent blockages in culverts caused by ice and debris, safeguarding property, infrastructure, and the environment from water-related disruptions.
7. Vacuum and Cleanup Services in Difficult-to-Reach Locations:
Our High-Rail trucks can access challenging, rail-only locations for cleanup and vacuum services. From remote sites to railway-adjacent areas, we ensure efficient debris removal, maintaining cleanliness and functionality in hard-to-reach spots. We're your top choice for specialized solutions in diverse settings, equipped with High-Rail trucks to excel in challenging environments.
8. Removing Ballast Materials and Assisting with Switchgear Maintenance:
Our High-Rail trucks excel in various rail-related tasks, including ballast material removal and switchgear maintenance. With specialized equipment and capabilities, we ensure efficient, safe, and disruption-free rail system operation.
9. Providing Hydrovac Services with Rail Accessibility:
We offer Hydrovac services accessible by rail, enabling precise, non-destructive excavation and material removal. These services are essential for rail-related projects like utility maintenance and infrastructure upgrades. Our rail-accessible Hydrovac capabilities ensure efficiency and safety in challenging railway environments.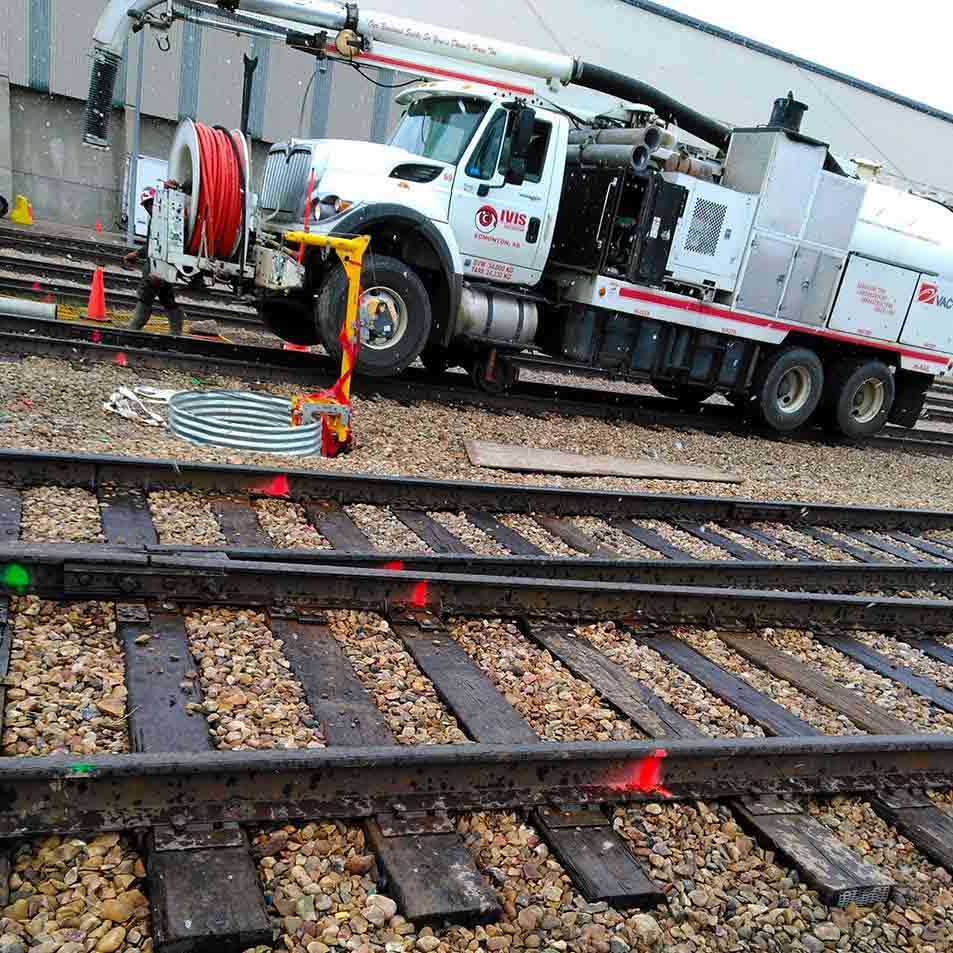 CALL
THE EXPERTS TODAY!
Our friendly and knowledgeable team is happy to answer any questions you may have.

Reach out to us by phone or email, and we will get back to you as soon as we can.