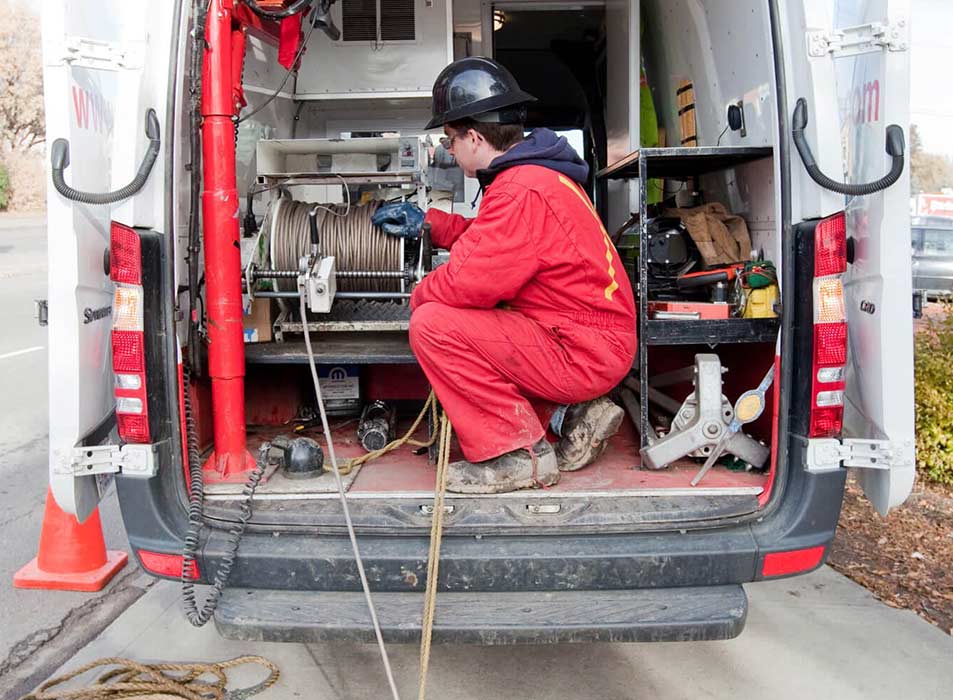 There are lots of great reasons to get regular sewer line inspections (which are also called video pipe inspections). Regular inspections can uncover problems in your sewer line before they cause damage to your home (like overflowing toilets or sewer backups into your basement).
A professional sewer line inspection will also take out the guesswork if you're experiencing issues in your home or building, like overflowing toilets, slow drainage or unpleasant odours coming from your plumbing system.
Because sewer lines are underground, you'll need a trained professional with specialized equipment to check its condition and spot potential problems.
If you're considering booking a professional sewer line inspection for your home or business in Edmonton, you may be wondering how the inspection works and what you can expect during your appointment.
What to Expect During your Sewer Line Inspection
Your residential or commercial sewer contractor will use a sewer camera—a small, self-leveling camera attached to the end of a flexible cable—to inspect your lines.
Your contractor will access your sewer line from your home or building's cleanout, which is usually located in the basement (your main sewer line will start from your home or building's foundation). From there, your contractor will move the camera through the lines looking for cracks, debris, build-up, blockages or sagging.
A sewer line inspection typically costs a few hundred dollars and takes about an hour or so. However, if your sewer line is difficult to locate or you come across a problem in your line, your inspection may take longer. Be sure to ask about the cost of your inspection and how long it will take when you book your appointment.
About Sewer Cameras
Sewer cameras provide a live, high-resolution picture of what's going on inside your lines. Most cameras can also record a video of your sewer line inspection, which is handy if you uncover an issue and need to work with your insurance company.
Using a camera to inspect your sewer system means a professional sewer contractor in Edmonton can see if and where there's a problem in your sewer line.
Common Issues a Professional Sewer Contractor Might Find
Some common problems an inspection like this may catch are things like cracked or collapsed lines, blockages or build up in your lines, or sagging lines.
These kinds of issues can cause some pretty serious damage within your home or building. If an issue in a sewer line goes unfixed, it could lead to a sewer backup. A sewer backup can cause your toilets to overflow or can lead to flooding in your basement. Flooding could mean you have to replace everything from furniture to flooring, to the drywall.
Having your sewer lines professionally inspected will give you peace of mind that your sewer system is running properly. Look to Ivis Construction as your first choice for water and sewer companies in Edmonton. Contact us today to schedule your professional Edmonton video pipe inspection.