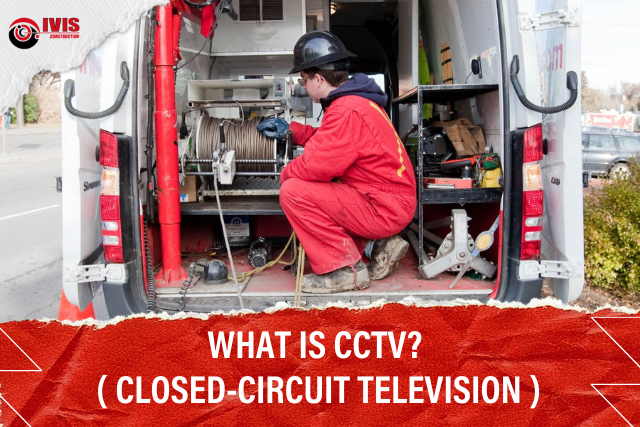 Has this ever happened to you?
You wake up to find your sink is clogged, and your toilet isn't flushing correctly? There goes your morning. Time to call around and hope someone is available to help right away!   Or you received the dreaded call from work. The restaurant's kitchen has flooded, and you need to close until it's fixed. We've been there. When plumbing is blocked – it's an emergency!   That's why it's vital to identify and repair the plumbing problem fast.   A CCTV sewer inspection can save Edmonton, property owners, time and money while getting to the source of their plumbing problems fast.
What Is CCTV?
CCTV (Closed Circuit Television Video) is when one of our highly trained operators uses a camera to inspect both main and lateral pipelines for blockages and other issues. A CCTV unit consists of a camera affixed to a long line of waterproof cables. This camera is so small it can fit in lines as little as 3 inches in diameter!   The CCTV unit transmits images, video and data back to our monitor, which we collect for your final report. Some of the information includes the exact location, depth, length, and type of pipe.   We can detect many other problems that may require attention.
What Are the Advantages of CCTV?
By using a CCTV, you can get to the cause of your plumbing issue. It's a less disruptive means of inspection versus more invasive options such as digging up pipes and having to remove your appliances, cutout holes in drywall etc. CCTV inspections are a cost-effective method for homeowners because we take the guesswork out of your plumbing issues while saving time and money.
Take The Guesswork Out Of Your Plumbing Issues
Professionals have used CCTV Camera inspections across the Edmonton area to find and diagnose underground infrastructure issues accurately. Using the data, photos and videos, we can recommend the easiest, fastest and most cost-effective solution to your plumbing and underground infrastructure issues.    These inspections often reveal other issues allowing property owners to maintain their plumbing before more expensive problems come up in the future.
What to Expect from your CCTV Sewer Line Inspection?
Once we complete your inspection, we will provide you with a written report that identifies any issues we find as well as your choice of a DVD or USB copy of the CCTV video inspection.
Ivis Inc. has proudly served residential, commercial and industrial clients in the Edmonton area since 1996. If you need a CCTV sewer inspection in Edmonton or the surrounding areas, give us a call first! Contact Us to request a free quote. Find us on LinkedIn