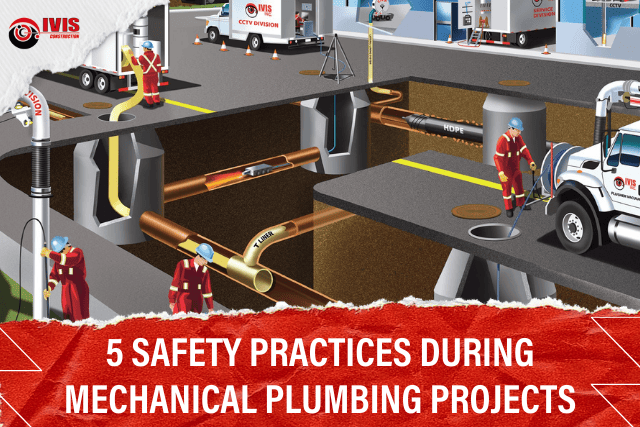 While mechanical plumbing might not have the same safety connotations as fighting fires, coal mining, or scaffolding – it does come with its risks,
We're committed to maintaining a strong safety culture at IVIS Construction. This includes thorough orientation training and various equipment and process-oriented certification programs, job site hazard awareness, critical thinking skills, and safe decision making.
Our team members are well equipped for any job, especially the rigours of mechanical plumbing in Edmonton.
Let's dive into the top five safety practices for mechanical plumbing projects!
Why Mechanical Plumbing Can Be Dangerous
Let's first discuss why mechanical plumbing in Edmonton has its own set of dangers to watch out for.
Plumbing jobs may be a quick drain flush for a residential client or a large commercial project, so the dangers will vary in that sense, but there are some common perils to keep in mind:
Slippery surfaces, especially in the case of a significant leak.
Biohazard exposure from septic tanks or sewage pipes, whether replacing or repairing.
Exposure to substances like mold, asbestos, solvents, and other dangerous particles.
Exposure to hot pipe systems, unstable or combustible materials, excess noise, and live wiring.
Cramped working environments with low air exchange and poor air quality, or use of ladders or scaffolding.
Top Safety Practices For Mechanical Plumbing in Edmonton:
As far as safety gear goes, what's required depends on the job at hand. However, it's more than ensuring that employees have suitable equipment, it's the regular evaluation of equipment quality and efficacy and making adjustments accordingly. This is something we keep top of mind at IVIS Construction.
Here are our top safety practices for mechanical plumbing:
Proper PPE use
Hard hats, safety goggles, and high visibility clothing are essential for our mechanical plumbing team. Non-slip, steel-toed work boots in good working order are required when on the job.
Ergonomic best practices
Proper ergonomics and lifting best practices are key for mechanical plumbing. Boiler rooms, gas line install, and other complex tasks often involve working in cramped spaces. Use of knee pads and step ladders is encouraged whenever possible.
We also provide training in confined spaces and fall protection to all relevant team members and take accident safety very seriously.
Respiratory protection
Respiratory health is a top priority for the team at IVIS Construction, especially when it comes to mechanical plumbing. Working with gas lines, sewage, and other hazardous tasks will require proper respiratory protection.
We conduct regular respiratory fit tests to ensure each employee's respirator protection equipment fits in line with industry standards.
Equipment safety
Our team members receive instruction, where relevant, in air brake safety, bonding mats, forklift safety, ground disturbances, plug safety, and more.
The better our team knows how to handle critical equipment for mechanical plumbing in Edmonton, the more productive we are on the job. This includes working within extreme temperatures – something prairie residents are all too familiar with!
First Aid Training
We arrange for all employees to undergo First Aid and CPR training. Proper knowledge of First Aid makes all the difference to a serious injury before first responders arrive!
Our team takes care to infuse a strong sense of safety values and best practices on the day-to-day. This includes regular safety inspections, advanced training courses, regular team check-ins, and requiring all team members to report safety concerns, accidents, or near-accidents as soon as possible.
IVIS Construction – Your Choice For Mechanical Plumbing in Edmonton.
A safe work environment that encourages growth, productivity, and safety vigilance are key for our team.
IVIS Construction is ready to help! Do you have questions about Mechanical Plumbing? Need a quote? We're just a click or call away. Call us at (780) 476-2626 or fill out our convenient online contact form!