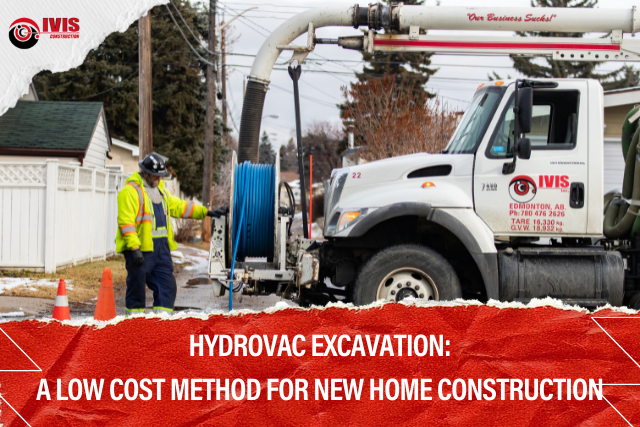 Edmonton is a rapidly developing city, with many smaller boroughs within its generous 684 square kilometre radius. The pandemic has seen housing prices soar, and the time to develop is now.
Whether development means a new home construction or commercial or residential renovation, locating reputable hydro excavation services in Edmonton should be high on your to-do list.
Be sure to check out our handy checklist for choosing hydro excavation services in Edmonton before selecting your contractor.
Let's dive into how hydrovac excavation can make all the difference for your next new home construction project:
Why Opt For Hydro Excavation Services In Edmonton?
Hydro excavation is ideal for year-round excavation needs. For many excavation projects, the work stops in the cold months, but because hydrovac excavation uses minimal equipment and hot pressurized water, projects using these services can forge on during those unforgiving cold prairie winters.
If you have a home renovation or new construction build, hydrovac excavation can make the process easier, faster, and much more cost-effective than manual excavation
Benefits Of Using Hydrovac For New Home Construction
Low mess and quick cleanup.

Manual excavation often requires twice as much work as hydro excavation. Traditional excavation equipment like backhoes leave a significant mess, and employees are faced with the unpleasant task of backfilling unintentional gaps and holes.

Precision is key with hydrovac excavation, and the hazard and headache of extra holes and divots aren't an occupational hazard you'll have to worry about. This is especially useful for large projects like new builds and renovations, where time is of the essence.
Cost-effective and efficient:

Choosing hydro excavation services in Edmonton means a quick project with a fast turnaround. Not to mention, it's much more affordable.

A hydrovac unit will reduce cleanup time and the cost of site repair after debris removal.
This is key for new builds, where a significant portion of the cost is embedded in clearing out a foundation space.
Precise and accurate.

Why tear up a road if you don't have to? Hot pressurized water from a hydrovac machine ensures consistent accuracy for all projects.

The operator uses a hot water 'wand' to break up the earth and vacuum away the resultant slurry. It's not hard to see how hydrovac excavation helps construction contractors dig out trenches for new builds and foundation space for renovations.
Safer than traditional excavation methods.

Backhoes and other conventional excavation methods have a higher risk of danger and damage than hydro excavation units.

Traditional excavation equipment usually requires a skilled operator and has several moving parts, which increases the risk of injury. Also, if you're a contractor, your commercial insurance premiums may be affected by the use and storage of different excavation equipment vehicles.
IVIS Construction – Expert
Hydro Excavation Services in Edmonton
Whether you're building a new home, or commercial building, or just looking to renovate your current structure – the team at IVIS Construction has your project covered. 
Our fleet of VAC-CON Combo units is ready for action. We have small and large trucks available to suit all project needs.
IVIS Construction is just a click away whether you have questions, need a quote, or just need some advice. Call us at (780) 476-2626 or fill out our convenient online contact form!